ATHLETE HIGHLIGHT
PROJECT NO DAYS OFF: 1,000 DAYS COMPLETE, NO REST DAYS IN SIGHT
Running takes a balance of discipline and strength, physically and mentally. Running consecutively for 1000 days will magnify that balance. Our Run Coach and Race Strategist Francisco Balagtas has reflected on the biggest milestone so far on his run streak and answers some questions poised to him during the last 2.5 years.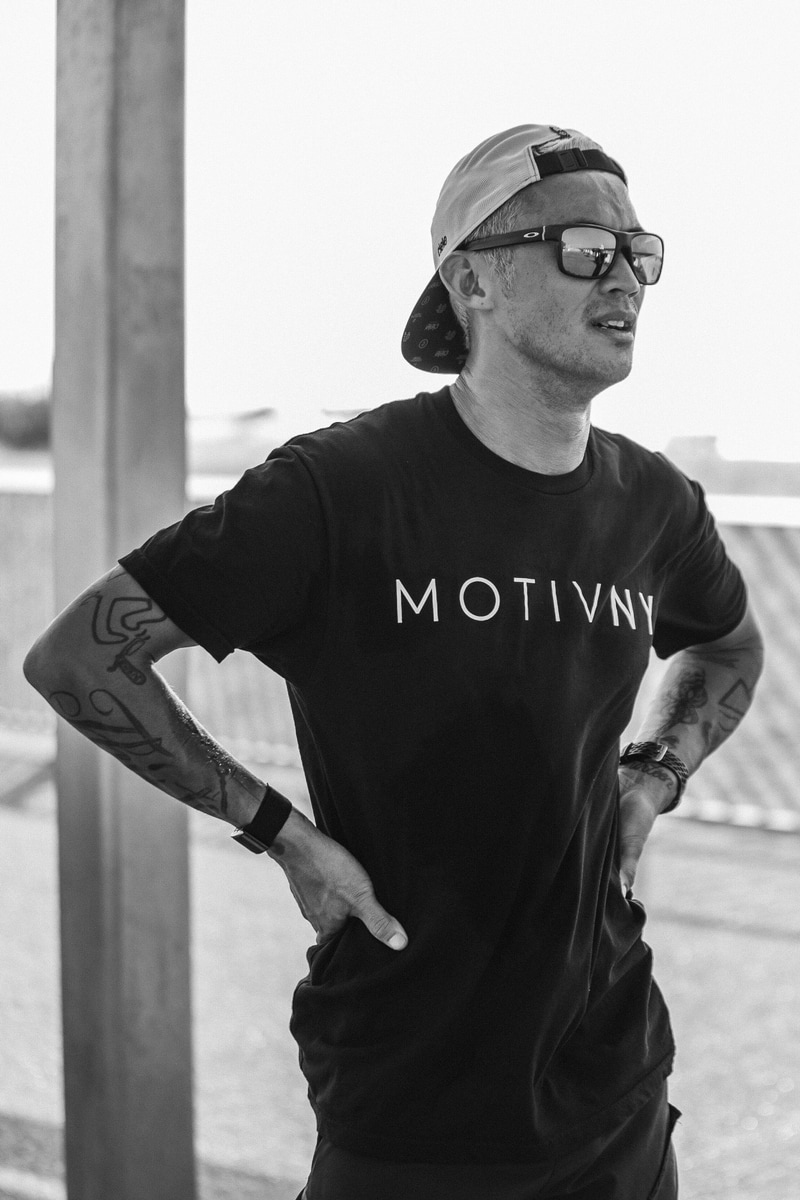 Everyone: "A thousand days in a row?!?!? How do you feel?"
Me: "Fine."
It has been one thousand consecutive days of running for me. Yes, I now consider myself a "Run Streaker". Among the collective of Run Streakers around the world, I represent a mere drop in the pool of mileage and days others have covered.
I've read and heard about different runner's journeys regarding their own run streak. I read about someone who has a had streak going for decades, another who runs 8 miles a day on the same sandy route in Miami, and someone who achieved their minimum mileage by jumping back and forth from two rocks while on a camping trip. The beauty of running and streaking is as simple as this, you can do it any way you want to. You can set you own goals, your own parameters, and follow them as you see fit. Most importantly, challenging yourself to follow through with something that will not only challenge you, but change you.
‍
Everyone: "When did you start? What counts as a run?"
Me: "January 1, 2017."
I decided on starting a run streak in December of 2016. I had finally run a Boston Marathon qualifying time at the end of November and thought about how I could make my running more interesting and dynamic. I was also intrigued by my close friend, Garrett King (@garrettking1), who seemingly always got himself involved with long, drawn out projects and ideas. But most impressive was that he carried them through to completion. It was at that moment, the aspect of a long investment spoke to me and it was natural to tie it into running.
Garrett and I ran Day 1 together on New Year's Day 2017. An out and back on the West Side Highway in New York City, stopping afterwards to film a short interview about what I wanted to accomplish. I laid the groundwork for what I wanted to do with the project. I had visions of what to do daily to capture each run. Unfortunately, it took onl;y about a month for me to realize how time consuming and irrelevant some of the elements I wanted to do everyday actually was. In the first few weeks, the project was already stripped down raw to only two basic parameters.
Minimum Distance: 5 Kilometers.
Run must START no later than 11:59:59PM to count for that day.
Post route map and run statistics to Instagram account.
‍
Everyone: "Did you ever get injured? Do you ever get sore??"
Me: "Yes and no."
I get amused when people think I haven't gotten sore or injured during this entire process. It was March of 2017, during Year #1 where I already started to feel the burden of running without any days off as it began to mix into my racing season.
I made the commitment to run the Orchard Street Runners (@orchardstreetrunners) OSR30 in March of 2017. It was February at the time, I was one month into the streak, and made amends with not having adequate time to prepare for a 30 Mile race. I also had committed to a 5 Kilometer race the day after in Washington Heights for my club team.
The OSR30 race will inevitably be dubbed as the "arctic year" as the race conditions mimicked that of the North and South Poles. I managed to get through it and found myself toeing the line the next morning for a fast 3.1 Mile race. But after closing out the first mile, I felt one of my knees buckle and life drain from me, resulting in a slow jog to the finish.
The next few days were not good. I still managed to run, but in terrible discomfort. I went as far as getting a brace for my knee to help alleviate the pain. I ran on it more and couldn't shake the feeling out of my knee. It was on a group run with Resident Runners (@residentrunners) where my knee decided to stop working entirely only after 3.5 miles. I reached the point where I found myself genuinely upset that this was almost preventing me from running and continuing my streak.
‍
Everyone: "What do you do to keep from getting injured all the time?"
Me: (Jokingly) "I have the best physical therapist in New York City."
I met David Jou a few times through group runs with Resident Runners and Orchard Street Runners. When I expressed some knee trouble with other runners, they always referred me to go straight to him and MOTIVNY. I approached David one evening with a self-diagnosis that I had been suffering from patellar tendonitis. Not only did he confirm my suspicions, but he gave me all the appropriate instructions I needed to recover: strengthening exercises, heat, and rest.
But then I told him about Project No Days Off and that a day without running was an option I was not yet willing to consider. Instead of completely discouraging me from running completely, we discussed how I could continue to run, but at the same time heal and recover. It would take a little bit more time for me to feel completely normal, but I would still be on the right path that would prevent me from further injury.
It was from that moment I knew that David and MOTIVNY would play a pivotal role in the progression of Project No Days Off. Over the course of the next 2.5 years, with MOTIVNY's assistance, I grew in knowledge about the limits of my body and how to listen to it appropriately and keep it from breaking down. I reached new plateaus with my strength and mobility that would not have been possible without.
‍
Everyone: "What do you do if you are sick? Or if you have to travel?"
Me: "I still run."
I have been sick about 4 or 5 times during these first 1,000 days. I may have caught some minor colds here and there, but I can count on one hand where I was clinging to life in bed, completely knocked out from something viral, or from food poisoning. Those are instances I will not forget as it took me so much energy and drive to will myself to get my shoes on and chase down the minimum of 5 kilometers. I can recount one recent instance this past September where I only removed myself from bed 5 times throughout the entire day. 4 times was to use the bathroom and the last time was to go for a run, at which I immediately crawled right back into bed after completion. It might seem unbelievable at first but running while sick made me feel a little better, getting my blood circulating faster, and allowing me to get fresh oxygen into my lungs.
As long as I start the run before the clock hits midnight in whatever time zone I'm in, the run will count for that day. It has only been a small handful of times where runs had to be completed late at night to account for time zone switches and potential schedule unavailability.
‍
Everyone: "What do you do when the weather is bad out?"
Me: "I suck it up, or I then end up doing something worse. I run on the treadmill."
Starting a run and getting caught in inclement weather is never an issue, but starting a run when the weather is completely miserable outside is another story. Nothing feels worse than getting completely soaked in the first few steps or high stepping through snow and slush sacrificing all grip and sure footing.
I am genuinely joking about my disdain about the alternative to running outside, the treadmill. Over the years I've learned to use the treadmill as a tool, not a substitute for outdoor runs. I am a firm believer that training benefits are gained radically from outdoor runs comparative to treadmill runs. But from time to time, a treadmill can be a useful tool in helping correct form. One of my favorite workouts on the treadmill is running 30 minutes barefoot, increasing pace every 10 minutes from Easy Pace, to Marathon Pace, finishing with Threshold Pace. Within each pace increase I make sure form (knee drive, pronation, arm carriage, torsional rotation, and other aspects) is where I need it to be and maintains consistency throughout.
In regards to statistics and how many times I've run on the treadmill, my best guestimate is that I've done about 20-30 runs on the treadmill, equalling to about 2-3% of my run total.
‍
Everyone: "Did you do anything special for the 1000th Day?"
Me: "Yes! I ran!"
All joking aside, I am proud of myself for making it to Day 1,000. After the first year was completed, I adopted the Forrest Gump mentality: "I figured, since I'd gone this far, I might as well turn around and keep right on going."
So that is exactly what I did. I decided to keep it going for another year. Another 365 days later, I decided to keep it going for one more year. And the way this year is going, it looks as if we will make it to Day 1,095 which will conclude Year 3.
I had other plans on how I imagined completing my 1000th run. However, just like the marathon, life is unpredictable and will throw you curveballs from time to time. I imagined I would be in a different setting with certain people, but that was quite the opposite. I found myself on the East River Park in the middle of a warm afternoon, alone, ticking off 1000m repeats with 1 minute rests until I felt satisfied enough with the effort.
‍
Everyone: "So what now? Will you keep going?"
Me: "As long as I am capable, yes."
I can't help but ponder what long standing effects running everyday has had on my body. I realize that I have made sizeable gains in my running ability since I started Project No Days Off, but I also wonder if I am reducing my long term ability to run since if I'm considerably doing too much now. Instead of working towards producing an answer to that question, I will instead leave it open for the time being. I'll continue to run as along am able to.
I won't be fearful of the day when I can't run or decide not to run. After all, the entire objective of all this was to always be better than the previous days. Each day I run adds one more day to the tally, which makes me better than the day before.
One day there won't be a run. I may not think about running altogether. Maybe there will be a few days of no running. I won't be nervous about that day, or scared, but I might be sad it will come to an end. But after all I've accomplished because of this journey, if the worst thing that comes out of it is that I am sad…..
…..well, that seems like life will still be ok.