ATHLETE HIGHLIGHT
Athlete Highlight: Jessie Zapo
We found a moment to catch up with Jessie Zapo to get insight on her training, recovery and racing strategy as she was going into the Black Canyon Ultra 100K. As performance coach & captain of adidas Runners NYC, founder of Girls Run NYC, art therapist, and ultra marathoner, Jessie had plenty to impart. See what she had to say about her process.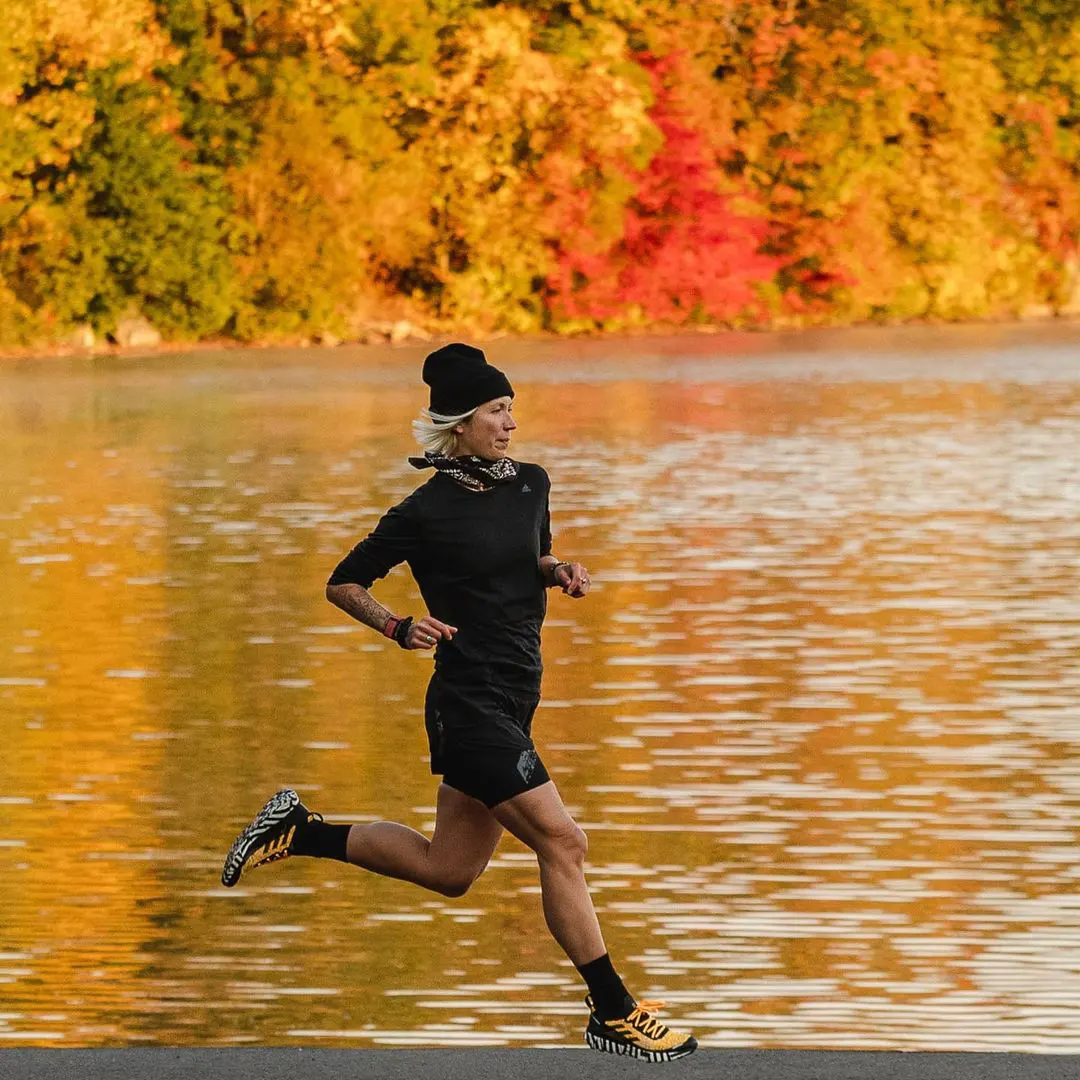 Credit: Keith Montero
‍
You just recently raced the Black Canyon Ultra 100K - congrats! Why this particular race?
I ran my first ultramarathon in the end of 2012 when I was a captain at the NYC Bridgerunners. We had signed up a small group of folks who had been marathon training to get out and run a 50k called the Delaware Water Gap Fatass, which was on the Appalachian Trail. That race was TOUGH, because it was all rocks and a lot of climbing and unsupported. I had not run on trails much up to that point, but I discovered that I was pretty good at trail running and endurance compared to road racing. I surprised myself on that day, and then signed up for another 50k shortly after. Over the years I had done quite a few 50k races and even a 60k but had not branched out past that distance because I often placed my attention on training others for marathons and road racing. In 2019 I signed up with a group of four women from Girls Run NYC to run the Black Canyon 60k in Arizona. I was excited because most of the training would happen in the winter and in the off-season from my work as a coach—which meant I could make the time to train for the 60k. When we ran the 60k in 2020 we had no idea at that time that it would be our only real race of 2020 as the pandemic was just pushing us into quarantine a few weeks after. As a group, we all loved the experience of that race, and agreed to all sign up for the 100k for 2021. As 2020 evolved, all of my teammates were unable to train or commit to the race for various reasons understandably. I kept training because I knew I needed this goal for myself to work towards. Then in late August we found out that my father was diagnosed with stage 3 colon cancer and needed emergency surgery. I was preparing myself for the worst—and that pushed me to get serious about training for this race for my own mental health, so that I could show up for my family and work. I hired a strength coach to help me with the climbing that I knew I wouldn't be able to simulate in much of my training on the roads here in NYC, and I got serious about weekly acupuncture, PT and my recovery practices. This race helped me to work through a very difficult time in my life when I felt like I was barely keeping my head above water—it gave me something to work hard towards and be hopeful about. It was very special.
How the heck did you find time to train for such a long race?
The blessing of 2020 is that it gave me time back from how I previously was working and living. In 2019, it would have been very different trying to make the time to consistently train for a race of this distance because I was traveling a lot and all over the place. In 2020, I had time on my side—and so making the time for a consistent training schedule became more readily available. At the same time, it required a lot of discipline to stick to the plan, but knowing that you cannot "Wing It" in a race of this distance helped me to stay honest in my training. In terms of training, you could look at 2019 and 2020 as the macro-cycle for this race. I had raced two 60ks in that time, 5 or 6? Marathons and had done plenty of trail racing and hiking with my team at Adidas runners. I had a very specific 5 month plan leading up to this race specifically, but without all of that work the prior year—it would have looked really different. Something we should recognize as runners is how each year builds on one another, for better or for worse.
‍
Credit: Lauren McNary‍
‍
Any secrets on how you made it to the start line injury free?
Yes! I had a few very helpful things for me that helped me get to the start line injury free (which by the way should be the goal in your training cycle for a race). I hired a strength coach who knew my training schedule and helped to build a strength program that would support me in my goal of being strong for mountain/trail climbing. I worked with a sports focused acupuncturist at Morningside Acupuncture for weekly sessions that helped me to manage a hamstring strain and actually recover while still maintaining a heavy training load. I utilized WHOOP for an entire year and helped shift some patterns and behaviors to help me get better and more sleep. I had been in physical therapy regularly at MOTIVNY that helped me to identify weak areas and strengthen those. I cut out alcohol for the last two months of training, which I wish I had done earlier. I also worked with my health coach who is a dietician at Parsley Health to make sure I was eating a balanced diet that was fueling my daily life alongside the increased training load. I had the benefit of having Adidas Terrex product for the training and the race, which helped to have gear that I trusted throughout my training process.
‍
Acupuncture seems to be a big recovery tool for you. Can you tell us how it's helped?‍
Acupuncture has been a really beautiful compliment to my training and to life in general. I first started going prior to the pandemic in 2020 and was surprised by how much I learned about my body through the process. My acupuncturist has a sport background and is very skilled in working with athletes—so he knows where to look and how to find problem areas. Just talking with him about what was going on in my training—he knows where to look in my body for what is holding tension or creating a biomechanical issue. I have found a similar experience in physical therapy— and the two definitely compliment each other. It's amazing how acupuncture can get to the root of an issue and help me to recovery, while still maintaining my training load. I had experienced a hamstring strain on a trail run in the end of the summer, and was able to manage it through to my 100k and even recover from it.
Trail running has been trending (probably since everyone's been looking for a healthy dose of nature lately). Any advice on how to start as a new trail runner?
Trail running is really special. One thing that I hear often is that people may feel intimidated by getting started. Part of the issue for us here in NYC is access to trails. Another issue that I have experienced as a woman is that I don't necessarily feel comfortable going trail running alone as well. It's far easier to run around your neighborhood alone than travel a distance to get on a trail by yourself. So my advice is definitely to either find a group that is already doing trail hikes or runs (such as Motiv!) or get together a friend or two and start simple with short runs or run/hikes that are local and easy to access. A lot of folks don't know that there are trails in Prospect and Central Parks. Van Cortlandt Park is also another place that you can access via subway. You don't need a lot of gear to start, but you do want shoes that have some tread on the bottom and you don't mind getting dirty. If you spend a little time looking, you can find groups that get together often to get on trails, and once you get started you will find that folks who do trails are often very friendly. There are also lots of trail races still happening during this time, so doing a little research and finding a shorter trail race with an entry level difficulty is also a great way to push yourself to get started. I often find that having the race on my calendar, holds me accountable to getting to that goal.
During this past year, how have you mixed your world as an art therapist and your world as an athlete or coach? Do they compete or compliment each other?
Being an art therapist and a coach/athlete definitely compliment one another. My work as an art therapist for 16 years has helped me in my role as a coach tremendously especially as the mental aspect of training and running is equally important as the physical training. I've even incorporated some of my art therapy practices into some of the individual and group training that I do. Both of these parts of my life I consider as being avenues for me to give "tools" to folks for living as their best self. My art therapy work has always been rooted in social justice and community building work—and my coaching work reflects that as well. I believe that if an individual begins to build themselves up, can heal and be as healthy as they can be—then they can begin to care for others and the community and the planet. In this way we have the ability to make change on a global level—but starting first with ourselves and becoming the best individual that we can be so we can show up for others.
We have a feeling you're already planning your next adventure. What's the scoop?
Great question! I'm definitely on the lookout for another 50 miler or 100k for the fall. But in the meantime I'll be back coaching folks for fall marathons at Adidas Runners and a Women's team for The Speed Project in LA this May.
‍