New York City Views
Local Guide: Where to Find the Best New York City Views
We feel very lucky to live and work in New York City. Whether you're from the area or just visiting, one thing that never gets old is those awesome New York City views. The NYC skyline is famous for a reason, so we gathered the 6 best places to catch the most eye-catching views of NYC, from bridges to walkways to islands. When the weather's nice, go for a walk or run to one of these places; you won't regret it!
‍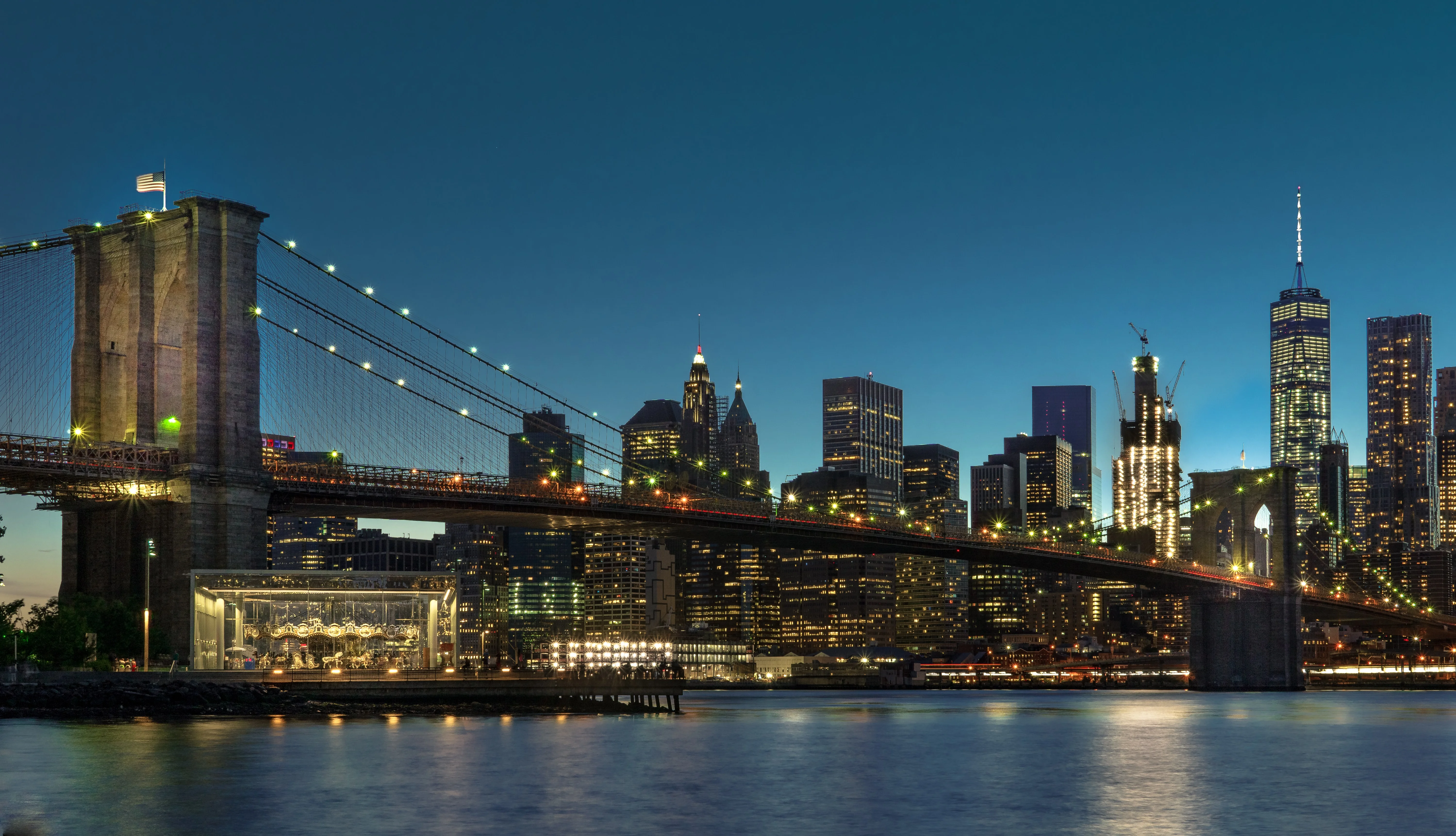 1. B

rooklyn Bridge
The Brooklyn Bridge offers one of the best free views of NYC. If you walk, run, or bike the smooth 1.1-mile boardwalk on the bridge, you'll be treated to uninterrupted views of One World Trade Center, Lower Manhattan, and even the Statue of Liberty. You can walk in either direction as many times as you want to really soak in those skyline views.
2.

The High Line
‍Formerly an elevated railway, most people know of the High Line as a 1.45-mile stroll on Manhattan's west side. More underrated are the views the High Line offers. Throughout a walk on the path, you'll get beautiful views of the Hudson River, massive murals, and unique art installations. One highlight is the 10th Avenue Overlook, which lets you look onto a busy city street from an elevated window.
3. Tudor City Bridge
If you've heard of Manhattanhenge, you probably know about Tudor City Bridge. During Manhattanhenge, which usually takes place around the winter and summer solstice, the sunrise and sunset align perfectly with the east-west streets in NYC. Tudor City Bridge offers one of the best views on Manhattanhenge, and the views are also fantastic any other time of year.
4.
Governor's Island
Hop on a quick boat ride to Governor's Island, the former military stronghold turned recreational paradise. The island offers its pick of athletic activities, fascinating history, and some unbelievable views of New York City's skyline, the Statue of Liberty, and Lower Manhattan.
‍
5. Empire State/One World Observatory
‍

These are the only views on our list you have to pay for, but they're classic for a reason and everyone should try to enjoy them at least once. The Empire State Observatory has observation decks on the 86th and 102nd floor, both of which offer panoramic views. One World Observatory is the highest point in the city, and its 360-degree views are unmatched.
6.

Panorama at Queens Museum
This isn't an NYC view in the strictest sense of the term, but it's too cool not to mention. The Queens Museum (which is free with suggested donations) has some excellent permanent and temporary exhibits and is located adjacent to the beautiful Flushing Meadows Corona Park, so it's well worth a visit. Inside the museum, you'll find a miniature model of the entire city, originally from the 1964 New York World's Fair. There's nothing like walking along the elevated path surrounding the nearly 10,000 square-foot model and finding the landmarks you recognize.
Conclusion
Nothing beats New York City views to make you really appreciate this great city. And personally, we think the best way to enjoy these views is by taking a scenic run! Come join MOTIVNY's Outdoor Program for community running that'll help you stay strong and see NYC at its best.
‍