Running, nutrition, Running in NYC
FUELING YOUR RUN: A BASIC HYDRATION GUIDE
Fueling your runs starts with maintaining your basic hydration intake. Adding enough water helps you regulate your body temperature, manage circulation and maintain proper muscle function.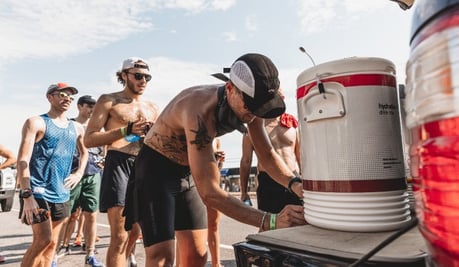 STEP 1: BASELINE HYDRATION
Everyone needs to pregame their event with a hydration strategy that prepares the body for performance and recovery. It is recommended to drink 30-40ml of water per kg of body weight daily while adding 500ml to 1L per hour of exertion (depending on how much you sweat).
Example: an 85kg athlete needs upwards of 3L of water, with a minimum of 500ml per hour of purposeful exercise. This means a runner doing a 90-minute long run needs to accumulate at least 4L of water throughout the course of a training day and needs to pull hydration during their activity to stay ahead.
THE "IV DRIP" MENTALITY
The best practice for water intake is to sip often and slowly, similar to how your body could receive hydration or nutrients in a hospital or wellness clinic. Set up your environment to facilitate a frequent and casual sipping practice to keep your drinking habits effortless and frequent. This will ensure a routine check-in with the hormonal signaling system while also managing your blood volume.
When you're well hydrated, your blood volume increases. The more blood you have, the less your heart has to work each heartbeat. Runners who track their heart rate zones are super sensitive to these changes and can feel better with an adequate amount of water for their bodies during training or in the days leading up to a long run.
IN THE HEAT OF BATTLE:
A famous quote I take from Francisco Balagtas (ultramarathoner & MOTIVNY run coach):
"If you're starting the run thirsty, it's already over."
Hydrating during your run is also imperative. Using a hand vessel or vest that carries water can help you stay on top of your performance to keep your muscles happy, including your heart.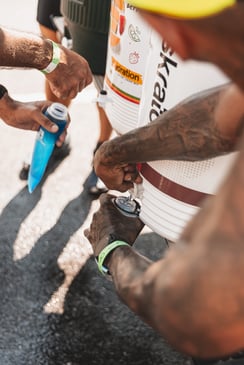 You may need to upwardly adjust intake if you are:
-sweating excessively
-still recovering from a previous workout
-in a muscle-building phase of training paired with a recurring running schedule
If you maintain a practice of sipping slowly and frequently, you'll gain more body intuition to regulate your intake.
STEP 2: ELECTROLYTES / MICRONUTRIENTS
Everyone needs to sustain proper muscle function with a focused mindset. By adding these three simple ingredients to your water, you can optimize muscle and brain function before, during, and after your event to keep your mind and muscles working efficiently.
Every athlete needs a combination of salt, potassium, and magnesium to maintain essential muscle function down to the cellular level.
Salt - to retain and keep the water you have.
Potassium - to help regulate the sodium and intracellular fluid
Magnesium - to prevent muscle cramps and regulate brain function.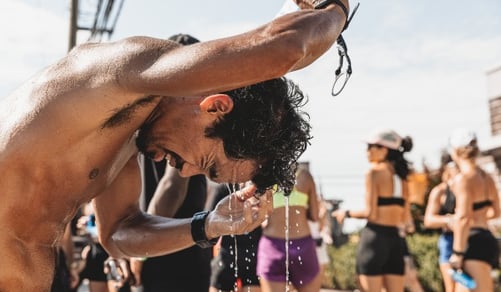 JP'S PICK:
Perfectly portioned with tasty flavors that are best enjoyed cold and can help you sustain more water while replenishing the salt that leaves your body.
STEP 3: PUTTING IT ALL TOGETHER
Your environment dictates behavior.
What do you need in your next long run to make sure you have enough to drink?
If this is a brand new tactic for you, how are you going to change your environment to make adding water obvious?
(Examples include: placing a water flask next to your mouse pad at work, adding a drinking glass to your oral care routine, carrying a hand flask on your long runs, etc.)
The best method is YOUR method. You'll best adhere to a plan you personally identify as a routine that reflects the best version of yourself. Be creative and reach out to your coach if you need a helping hand.