THE NYC MARATHON: A SURVIVOR'S STORY
More than just a race, the New York City Marathon is an event that brings together a city of people stereotypically known to be focused on their own lives and careers together for the most emotional day of the year. 50,000 people step up to the start line in Staten Island to run, walk, and sprint to the finish in Central Park, while at least that many people line the streets to scream for friends and strangers alike. It's a block party. It's electric. It's the one day of the year that New Yorkers come together as one team, one family. It is the single most stunning expression of unity that this city has to offer.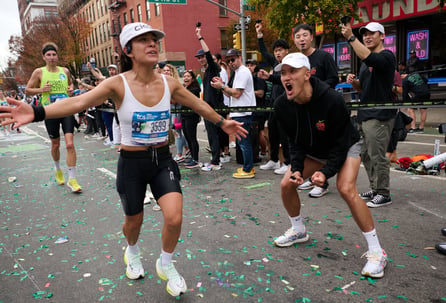 This year, for the first time, I got to experience it as a runner instead of a spectator. Here is my story, in three parts:
The race
The lessons learned
Goals, and how to reach them
One quick note before we begin: Why did I sign up this year? I returned to this question often throughout the last 4 months of training, as I spent every Saturday of the last 16 weeks waking up at the crack of dawn to run. As soccer player in a past lifetime, I had always thought to myself that I could finish a marathon and that I should prove that to myself one day. When I joined the MOTIVNY team, I decided that it was now or never - through MOTIVNY, I had access to every possible resource I would need to be successful. From world-class coaches and expert physical therapists to recovery services like the infrared sauna and Normatec boots, I basically had the support system of an elite athlete. Shameless plug here: but if you haven't tried the MOTIVNY way yet, you should.
THE RACE
Walking to the Staten Island Ferry at 6:30am I was already sweating. Meeting up with a few friends in the ferry line, we reminisced about the amount of time and energy we had poured into reaching this moment, and I felt myself immediately starting to choke up. I remember thinking, "Oh god, if this is any indication of how the day is going to go, there are going to be a lot of tears today."
The day was forecasted to be balmy: 75F and 90% humidity - an unseasonably warm day for NYC in November. Only after the race did we find out that it would be the hottest day in recorded history on November 6th. As the gun went off I swore a silent "f*ck you" to the weather gods for cursing us with bright sunshine and soupy warmth.
The race streamed over the Verrazano Bridge and into South Brooklyn. I nervously kept checking my watch to make sure I was on track for my time goal. My coach, the indomitable Francisco Balagtas, had told me to hold back, stick to the plan, and to be patient. The ink of the pacing notes I had scribbled on my arm was already melting off, but I quickly realized it didn't matter: the tight crowd of runners was making it almost impossible for me to run my own race.
I was warned that Bedford would be a speed tunnel, that the energy of the crowds and the narrowness of the streets would make runners unconsciously speed up. This day, however, the race seemed to slow down as we entered miles 8 and 9, a sure sign that the heat was starting to take its toll. As I passed my MOTIVNY cheer squad, Luke passed me an ice-cold water bottle, and I tucked it against my elbow like a running back carrying a football. But clearly I never actually played football because barely two minutes later, the bottle slipped out of my sweaty butterfingers grip. In a panic, I kicked the bottle twice, managed to keep it right in front of me, and was able to scoop it up without breaking my stride.
The guy next to me glanced at me and commented, "You should've just let that go," to which I replied, "I desperately need that water!" And desperate I was. The lack of water stations the first few miles of the race and the unrelenting blaze of the sun were kicking my ass, and I was terrified at how tired I was already feeling. After the race, chatter and the stats revealed this was the exact moment that the race was starting to go wrong for a lot of people. According to Strava statistics, it was around this point that the average pace of this year's runners started to drop off the pace of previous years' runners.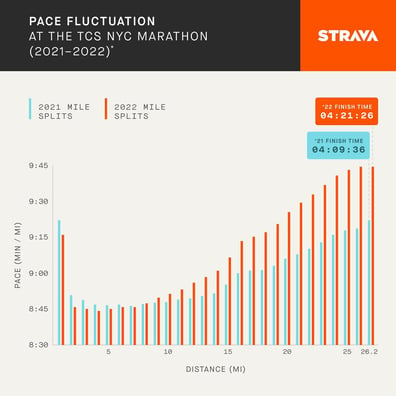 As we approached Pulaski, my dear client and friend Chris caught up with me and jumped in to run with me. He told me I was ahead of my goal of sub 4 hours by a solid margin, and that I was doing great. Unfortunately, I had lied to most people about my goal (it was actually a 3:50, but I had been too scared to voice that out loud) and I was in fact already over 60 seconds behind crossing the halfway point. In Queens my fiancé Nick was waiting for me and Chris handed me off to him with a fist bump and a final word of encouragement. I told Nick that I was hurting and that I no longer had the mental capacity to figure out if I was on time, but that I was pretty sure I was a few minutes behind. No matter, he said, the real race is yet to come. As we started up the Queensboro Bridge, I put my headphones in and turned my music up. Everywhere around us, people were dropping off and starting to walk. Though I had started right behind the 3:45 pace group, there was almost no one running at that speed anymore.
First Ave. came like a breath of fresh air, and as we made the turn, I caught a glimpse of our friends at Nike with whom I had run most of my long runs during the summer. Even through my headphones, I could hear their screams; I felt my legs pick up and my mind clear as I remembered that I had run these last 10 miles so many times before during my training. This was the first moment that I believed I could make it.
Miles 16-19 came and went. The rain started coming down, but with no reprieve in the humidity. New York just serving us the best of the worst today, I thought to myself. Nick anxiously watched me as my breathing intensified, and the pain on my face became more evident. "You just have to get to 20", he tells me. "You just have to get to 20, and then you're in the clear." So I pretended 20 was the finish line, and as I crossed the mile marker I screamed and threw my hands up in celebration.
A few more hills and a few more surprise friend cameos later
, I was exiting Central Park and rounding the final turns. I had just run through a literal graveyard of collapsed runners; unconscious and surrounded by medics. The heat had taken no prisoners, and it was a scary few miles seeing how many people had gone down. I ran into my MOTIVNY teammate Dave about a mile from the finish. Just as I had started feeling chills through my body - a sign that I had run out of calories and was headed into heat exhaustion territory, I mentally tethered myself to Dave, telling myself that I just had to hang on to him until the finish. We crossed the line together...a beautiful full-circle moment. He had been one of the main people that had pushed me to sign up for the race so many months ago, and one of my biggest cheerleaders throughout the weeks of training. Looking back, I'm honestly shocked that I didn't immediately start bawling when I crossed the finish line, but I think I was just too far beyond any mental capacity to process what I had just done at that moment.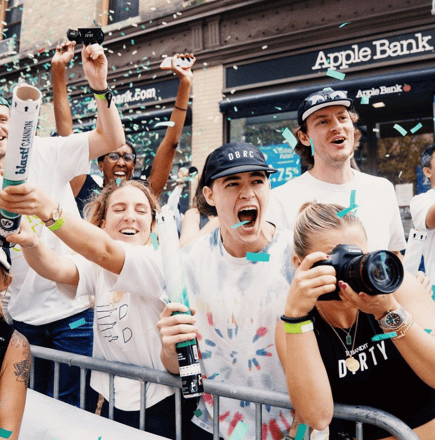 LESSONS, AND HOW TO APPLY THEM
"If you want to go fast, go alone. If you want to go far, go together."
Running is an obviously individual sport. The finish line tape only gets to be broken by one person. Your race result is assigned to your name and yours alone. But to say that success is individually achieved would be to blatantly ignore the beauty of running together. When I started training I thought that I was a solo runner. I thought I would feel self-conscious and uncomfortable in a group. What if I wanted to run at a pace different than the group? What if I wanted to stop?
I realized almost immediately that everyone out for a long run is struggling with the same thoughts, and that existing together in the pain gave me a strength that I wouldn't otherwise have had. People were speeding up and slowing down all the time. People pulled off for a water stop or a rest break all the time. I was not alone.
This was the same power that kept me going on race day. The hands-down most special part of this marathon was realizing how many friends I had made through running. In Brooklyn, when things were just getting tough, I saw adidas Runners pacer Rosaleen screaming for me. I remembered how tracking her through the London Marathon gave me inspiration, continuing a long run even while I struggled. Turning onto First Ave I saw Dirty Bird Run Club captain Jack and remembered how I had promised him a keg stand if he reached his goal time in Chicago (he blew it out of the water and I do indeed owe him a beer).
Running may be an individual sport, but success is achieved together. Whether you are just starting out or you've been running for years, I cannot encourage you enough to seek out a run club, a track workout, or any other community to call your team. These are the people that will carry you on their backs when the going gets tough. These are the people who will show you anything is possible. And most importantly, these are the people that will keep running FUN. And while I understand what that proverb about going fast is trying to say, I do believe you can go faster AND farther together.
"We interrupt your expectations to bring you your actual marathon."
Brendan Leonard of Semi-Rad wrote a totally rad recap of his experience this year at the NYC marathon, very accurately summing up the reality vs. expectation of his race. This year's conditions truly highlighted that the best-laid plans can often go to absolute shit, but I think the truth is that the marathon distance alone is enough of a recipe for chaos. No matter how hard you train, no matter how many times you've run this distance, 26.2 miles is enough miles to rock your world every time.
So the takeaway here is not so much a lesson as it is a challenge. I want to know: can you call yourself an athlete even if you didn't reach your goal? Can you confidently say that your result does not define your ability? Can you reflect on your failures as well as your successes without tying your emotional well-being to your self-analysis?
I won't lie, these questions rattle me. I want to know that all the training and sacrifice I went through was for good reason, and I think that is a reasonable expectation of anyone entering a marathon. But I remind myself, and now I remind you, that even Eliud Kipchoge had to fail his first sub-two attempt before he could succeed.
GOALS, AND HOW TO REACH THEM
When I started this journey, I believed I could run a 4:15 marathon (9:30/mile). My coach decided that I was wrong and that a 3:50 was possible (8:46/mile). I trusted him, but I didn't fully believe him.
My finishing time was a 3:50:01.
This is where you probably expect me to tell you that I trained hard and executed the plan. That would simply be too myopic a view of the marathon event. I did train hard, but having survived and emerged from the other side victorious, I believe that there is a little sprinkle of magic fairy dust that is required to have a perfect race. Not to say that people having a good race were lucky. But at this race, I had every piece of the puzzle magically fall into place. I truly would not be able to tell you why I was successful when so many others were not.
Let me give you an example. Every long run, I noticed that taking gels after about 10 miles of running would cause my stomach to cramp up. This is why I had pretzels, bananas, and applesauce with me for the race - I was planning to switch to whole foods exclusively after the halfway mark. I ate gels the whole way through the Marathon with zero stomach issues. On the other hand, my friend experienced serious GI distress during the race, when he had no issues on his training runs.
Magic fairy dust aside, let's talk about what puzzle pieces I'm referring to and what you can do about them when you train for your next (or first!) marathon. This is not meant to be a detailed guide on all things running (for that, head over to the MOTIVNY journal for Luke's 5 part series on What Happens Inside My Body When I Run?). Rather, I hope you use this as a starting point to guide you toward further learning. One thing you'll hear over and over again - figure out what works for you, and practice it often.
HYDRATION
Hydration (read: water + electrolytes) is key, regardless of the temp and humidity of race day. What I found difficult: navigating water stops, taking in enough water from tiny paper cups, and figuring out the best way to take in electrolytes. I realized during my long runs that the extra sugar in electrolyte drinks like Gatorade or liquid IV upset my stomach and that electrolyte capsules were hard to swallow on the run, so I went with Salt Stick Fast Chews. Figure out what works for you, and practice executing the plan often!
Check out Coach JP's Basic Hydration Guide for more tips on how to get enough water into your daily routine, or The Feed for a guide to different hydration products.
NUTRITION
We've all heard of the legendary "wall" that many marathoners encounter after 20ish miles. The research overwhelmingly shows that this wall is not indicative of a failure of training or a lack of fitness, but rather a depletion of calories needed to keep running. For my race, I ate 6 gels, 1 pack of chews, 2 bananas, and 2 packets of applesauce (The drinkable kind made for toddlers). This is NOT a plan for you to follow so much as an example of how much food I needed to get through ~4 hours of running. Figure out what works for you, and practice executing the plan often!
For a better understanding of race nutrition and a more examples of a race fueling plan, check out our blogs on Exercise Metabolism or Fueling Your Run.
REST & RECOVERY
Accurately quantifying the amount of physical and psychological stress on your body is extremely difficult to do. Recognizing the inevitability of race day anxiety, it is important to prioritize activities to help mitigate the effects of this stress on your body. This includes but is not limited to: light movement and mobility, meditation or breathwork exercises, and consistent, adequate sleep. Figure out what relieves your stress most effectively, and practice that.
MENTAL TRAINING
Training your mental state is another highly individual and specific practice, and what may work for one person may not be the most effective technique for the next person. That being said, visualization and mental practice has been shown in research to be highly effective for athletes and can be a powerful tool when you are struggling physically. Every time I ran through Central Park I imagined the feeling of running through there at the end of the race. I practiced using my mantra to carry me through my fatigue. I ran the course multiple times so that I could mentally prepare for the hardest parts (5th Ave, anyone?). Figure out what you need to do to support your mental state; not just through the training but through the race itself, and practice that.
THE RANDOM BEST OF THE REST
Any coach or marathon veteran will tell you, "Nothing new on race day." This means your training runs are not just meant for running, but as opportunities to figure out your race day plan. Consider:
How early do I need to wake up in order to properly prepare for a run? This doesn't just include eating breakfast; think about how much time you need to allow for a bathroom stop after coffee, or in my case, how much time I need to put body glide on my toes.
What am I going to wear? My most shocking discoveries: 1) my favorite sunnies started sliding down my nose after an hour and became insufferable to wear, and 2) a backwards hat kept the sweat from dripping into my eyes.
Reflect on what stressed you out most before, during, and after your long runs, and figure out a plan for tackling those stressors for race week.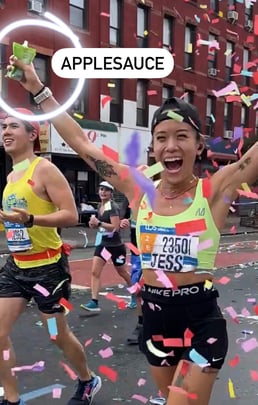 WHAT'S NEXT?
Well, the amnesia is setting in, and I'm starting to forget the pain of training and the pain of the race (isn't that what they say happens for mothers after childbirth as well? Yikes). Whether I decide to take on another race is TBD, but in the meantime, I am excitedly being the hype woman for all the friends who have been inspired by this year's NYC Marathon to sign up for their own first races.
To all of you who felt something awaken inside of you last Sunday, welcome to the journey. Remember this moment. Remember the emotion you felt watching the race. Remember that feeling when you are being pushed to your limits. Know that just as you were inspired by this year's runners, they were inspired by the runners that came before them. Inspiration comes full circle, and nowhere is there a more pure manifestation of that than at the New York City Marathon.
To those who ran this year, holy hell should you be proud of yourself. Whether or not you are happy with how your race went, I hope that my story inspires you to reflect on your own journey and why you stepped up to the plate in the first place. I hope that instead of thinking in terms of successes and failures, that you find inspiration and lessons learned for the next hard thing you attempt (running related or not). It was an honor to share the road with you.
354 days until the next New York City Marathon. Until then, happy running.